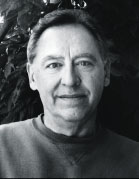 Donald Kentop was born and raised in New York City. He graduated from New York University and has a master's degree in teaching history from Columbia University. He has performed at the Frye Art Museum, Jack Straw Foundation, Elliott Bay Book Company, and Bumbershoot Arts Festival. Donald's poems have appeared in Chrysanthemum; Drash; The Jack Straw Anthology; Mute Note Earthward; Tattoos on Cedar; Limbs of the Pine, Peaks of the Range; Many Trails to the Summit; and Footbridge Above the Falls. He has published two poetry collections: On Paper Wings (Rose Alley, 2004) and Frozen by Fire: A Documentary in Verse of the Triangle Factory Fire of 1911 (Paper Wings, 2014).

Discover Other Rose Alley Press Authors . . .


Back to Rose Alley Main Page . . .