From and About Footbridge Above the Falls:
Poems by Forty-Eight Northwest Poets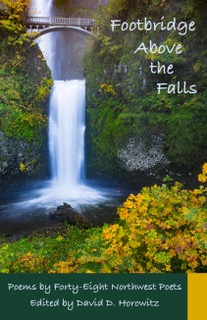 Rose Alley Press has done it again! This bold collection of contemporary Pacific Northwest poetry holds a clear sense of voice. The reader is constantly reminded of how the sound of a poem informs the meaning. Alliteration, assonance, rhythm and rhyme, in new forms and old, help to express wisdom and wonder. —Griffith Williams, publisher, East Point West Press

Ranging from introspective to political, from philosophical to ecological, these poems delight the ear and mind. Formal, or formally informed, they comprise both "brief cameos" that "Memory makes of us" (Sharon Hashimoto) and "hazard lights/pulsing like a cornered heart" (Derek Sheffield). Enjoy these lyrical performances as you "Listen to the thunder of the sweet, old rhymes" (Bethany Reid)—and these new ones. —Jennifer Bullis, author of Impossible Lessons




The Anthology Poets:
| | |
| --- | --- |
| Lana Hechtman Ayers | Jim Lutz |
| James Bertolino | David Mason |
| Robinson Bolkum | Brendan McBreen |
| Patricia Bollin | Colleen J. McElroy |
| Anita K. Boyle | Kristen McHenry |
| John Byrne | Robert McNamara |
| Dennis Caswell | Jed Myers |
| Wendy Chin-Tanner | Ken Osborne |
| Rick Clark | Carl Palmer |
| Douglas Cole | Paulann Petersen |
| Kevin Craft | Bethany Reid |
| Mary Eliza Crane | Raúl Sánchez |
| Clark Crouch | Randolph Douglas Schuder |
| Karen Finneyfrock | Derek Sheffield |
| Victoria Ford | Ken Shiovitz |
| Jo Gale | K. Simon |
| Joseph Green | Michael Spence |
| Sharon Hashimoto | JT Stewart |
| Christopher J. Jarmick | Joannie Stangeland |
| Richard Kenney | Jean Syed |
| Donald Kentop | David Thornbrugh |
| William Kupinse | Richard Wakefield |
| Robert Lashley | Connie K Walle |
| Priscilla Long | Carolyne Wright |
Footbridge Above the Falls: Poems by Forty-Eight Northwest Poets
Edited by David D. Horowitz, 978-0-9906812-2-9, paperback, 224 pages, $15.95 US
BROUGHT TO LIGHT
The wind tore through on trash-collection day
and scattered secrets up and down the street.
Our private lives lie jumbled, indiscreet,
though what belonged to whom is hard to say.
An upwind neighbor's Playboy Playmates pose
in Mrs. Jones's begonias, broken loose.
Losing lotto tickets deck a spruce
like anemic leaves where disappointment grows.
Intimate prescriptions and bills past-due
bear names, though none the finder recognizes.
And what if he did? The catalog of vices
shows us almost nothing unique or new.
What's strange is our capacity for shame
when what we strive to hide is all the same.
THE SOUL FOX
— for Chrissy, 28 October 2011
My love, the fox is in the yard.
The snow will bear his print a while,
then melt and go, but we who saw
his way of finding out, his night
of seeking, know what we have seen
and are the better for it. Write.
Let the white page bear the mark,
then melt with joy upon the dark.

David Mason
BEFORE THE FALL
Now that we're in midsummer, my love,
all the usual flowers are in bloom.
When the foxgloves, trillium, and creeping thyme
flaunt their blowsy bellies, who notices
the moss that cushions the loam, or the lichen
that arms the trunks of the pine and fir?
Let's walk through the woods quietly.
Take my hand in silence, then let me go.
Wendy Chin-Tanner
A BED OF ROSES
Like flowers planted in the wrong bed,
We sometimes fail to blossom, and instead
Wait vainly for some friendly spade
To take us where a better bed is made.

It never happens, though. The earth
Is stingy with rebirth,
And like the whims that bed the plant,
We sometimes bloom, but often can't.
Pity those that nature made
For sun that ended up in shade.
Pity hope that waits in vain.
Pity a cactus in the rain.
Jim Lutz
A GOOD THING
A good thing he's retired—now the hours
Can be spent checking out what's going wrong
With his feet, his eyes, his bent body. Dour
Doctors explain his pains these days belong
To him the way experience has pressed
Its fingers into his clay: the price to pay,
A salmon lunging upstream to the end it guessed
The very first time it entered the sea.
The thoughtless effort of moving everywhere,
To even run without a twinge or cramp—
The tortoise he's become has beat the hare
Across some unwanted finish line. He clamps
Tightly the book he brings to keep from feeling
Like a prisoner on death row as he takes
A dimpled seat in the waiting room. The spring
In his step has snapped. Can the doc solder the break?
The speed of life has made a blur of his past.
He sighs at the call: The doctor will see you now.
He sees that one of these visits will be his last.
Before he can rise to his feet, he has to bow.

Michael Spence
GHAZAL FOR A SISTER
The house sips rain this quiet night.
No need for fame this quiet night.
Morocco's sweets; memory's mosque:
Chanting claims that quiet night.
A teapot hoards the blue of eyes.
White bones remain this quiet night.
A suicide's tomb: wet leaves and moss.
Beauty—no blame—this quiet night.
I keep your bowl, your good
book. I speak your name this quiet night.
Priscilla Long
GRACE NOTE
She was a lovely sonnet
Poor i, a humble rhyme
Thistle to her violet
Shade beneath her shine.
Yet there was that between us
No genre might contain
A thing sui generis:
A passing, sweet refrain.
Her iambs and my dactyls
(The graceful and the crude)
Made music contrapuntal
And each the other wooed.
Within her generous pentameter
My less became her more
She welcomed my tetrameter
And whispered, mon amour
That beings so diverse
Could make that pairing rhyme!
My consonance was terse
Her assonance sublime.
Randolph Douglas Schuder

All Rose Alley Press anthology poets retain copyright of their poems.